Leadership turmoil in Congress could potentially help the local news industry in its quest for federal support, according to an update provided to publishers gathered in Chicago last week.
That's in part because there's growing appreciation of the industry's dire situation and bipartisan support for federal intervention, such as tax credits to help save newsroom jobs.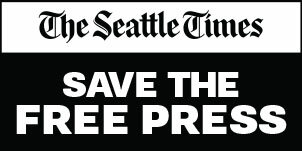 "I think the reality is, unfortunately, many legislators have seen newspapers close in their districts, their districts are worse," Dean Ridings, CEO of America's Newspapers, said during the trade group's Senior Leadership Conference. "The towns that have lost their newspapers are not better off and they know that."
Ridings and dozens of publishers lobbied for support in a Washington, D.C., "fly in" last month.
"Everyone I met with on both sides of the aisle were receptive," he said.
Most publishers desperately need support as their businesses are disrupted by technological and consumer changes.
While the industry is evolving and finding new business models, that's impeded by the unfair business practices of tech giants that were documented by Congress and federal and state regulators and are slowly being addressed in court.
Meanwhile two newspapers a week are closing, on average. Newspaper employment fell 70% since 2005, according to research by Northwestern University's Medill School.
The key proposals are temporary payroll tax credits to preserve newsroom jobs and a bill that would enable newspapers to collectively negotiate agreements with tech platforms, where their stories are increasingly read.
"Newspapers will close if we don't do something about this problem," said Cameron Nutting Williams, chief revenue officer at Ogden Newspapers, a family-owned newspaper chain based in West Virginia.
Then there's the imminent threat of generative artificial intelligence scraping, blending and repackaging online newspaper stories, potentially driving a final nail in the industry's coffin.
The News/Media Alliance, another trade group, is drafting a legislative proposal to address what some publications are calling an "existential threat" from AI, according to its CEO, Danielle Coffey.
"There is no business model for our industry with some versions of AI," she told the conference.
Informal polling found most publishers and news executives in attendance saw little to no profit in 2022. Some 39% expect to have fewer employees in 2025 and 31% expect to have more, according to a "show of hands" via electronic devices in the room.
Nutting Williams said many people don't realize the severity of the situation and what happens when papers close.
"There's a myth that if a newspaper closes something else will just come up behind it, something digital only, a nonprofit or something will come in behind it," she said. "That has definitely happened in some cases but we also know that in a lot of smaller and rural communities that's not going to happen or it doesn't happen."
Tax credits to sustain newsrooms while the industry retools for digital competition were first proposed in 2020 as the Local Journalism Sustainability Act. It also included a household credit for news subscriptions and credits for small businesses advertising locally. The newsroom credits came close to passing in 2021 as part of a pandemic relief spending package.
A scaled-down version, without the subscription credit, was introduced in July as the Community News and Small Business Support Act. U.S. Reps. Claudia Tenney, an upstate New York Republican, and Suzan DelBene, a Medina Democrat, are co-sponsors.
The bill, H.R. 4756, now has 13 Republican and 14 Democratic sponsors. Other Washington co-sponsors so far are U.S. Reps. Pramila Jayapal and Derek Kilmer.
America's Newspapers has more details at supportcommunitynews.com.
Coffey's group is leading the push for the Journalism Competition and Preservation Act, a temporary antitrust exemption that would allow news organizations to collectively bargain compensation agreements with Google and Facebook.
The dysfunction of Congress is an impediment, however. Coffey told the group that the JCPA has momentum in the Senate but the House situation is more than complicated.
JCPA is held up in part by the opposition of U.S. Rep. Jim Jordan, chair of the Judiciary Committee. Coffey told the group that if Jordan did become House speaker "he'll have bigger fish to fry" and the bill could potentially progress.
The bill is also furiously opposed by the tech giants, even though they've voluntarily made digital-content deals with a few of the largest publishers in the U.S. Left out are the 6,000 or so local newspapers providing most of America's essential civic journalism, and needing fairer compensation online to survive in their more digital future.
The dominant platforms are also paying publishers through content deals in Australia and Europe, and they're negotiating with Canada's government to implement a similar law it passed this year.
"We believe the momentum and the wave of compensation to newspapers for their fair market value is inevitable," Coffey said. "And we'll keep fighting for the value that we produce and that we provide to audiences across the country and around the world."
Brier Dudley on Twitter: @BrierDudley is editor of The Seattle Times Save the Free Press Initiative. Its weekly newsletter: https://st.news/FreePressNewsletter. Reach him at bdudley@seattletimes.com.