One of the most promising policy ideas to stop the decimation of local newsrooms is back in play.
Federal tax credits to preserve newsroom jobs, and incentivize publishers to create more of them, were nearly approved as part of spending packages in 2021 and 2022.
Now a scaled-back version is proposed by U.S. Reps. Claudia Tenney, a New York Republican, and Suzan DelBene, a Washington Democrat.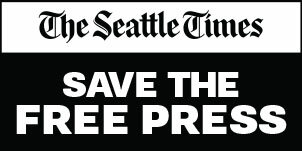 They announced the Community News & Small Business Support Act, H.R. 4756, on Friday and aim to include it in fiscal legislation this year.
"We have 218 million Americans who access news from their local papers every month but since 2004, while our population has grown, the number of newsroom employees has dropped by 57%," DelBene told me.
"This is a critical resource for our communities," she continued. "If we really want to make sure people are getting information about what's happening locally … involving people in the civic community, we need to support our local papers."
Their bill succeeds the Local Journalism Sustainability Act, a bipartisan measure that had 77 sponsors in the previous Congress. Its payroll tax credits were expected to cost $1.67 billion over 10 years.
Like its predecessor, the Community News bill would provide a tax credit to local newspapers of up to $25,000 per journalist in the first year and up to $15,000 per year for the following four years.
Also included is a five-year credit for small businesses advertising in local media. They would receive tax credits up to $5,000 in the first year and $2,500 the next four. It's for businesses with 50 or fewer employees.
Not included this time is a tax credit for household news subscriptions. DelBene said administration of that program would be "very, very complicated" so it was left out.
DelBene's leadership extends the Washington delegation's outstanding support for saving local journalism. All but one House member, Spokane Republican Rep. Cathy McMorris Rodgers, supported the Local Journalism act that was co-sponsored by a Yakima Valley Republican, Rep. Dan Newhouse.
I encourage them to make it unanimous this time.
The tax credits are a relatively low-cost, elegant solution to a local journalism crisis that's eroding civic literacy and democracy.
They would stop local newspapers' bleeding and, combined with federal efforts to address unfair competition in the digital ad market, put this essential industry back on its feet.
Credits would also incentivize people in communities with gutted newspapers to acquire and restore them, or start new ones and spur competition.
Here are edited excerpts of my conversation with DelBene:
Question: Why does this bill stand a better chance of passing than the previous version?
DelBene: We have bipartisan support and things in Congress don't always move in a linear pattern. It takes ongoing, consistent support. So I actually think that while it hasn't passed yet, we continue to build support for it and are going to continue to do that work so we can get it through the House, through the Senate and to the president's desk.
Q: There was a lot of support for the approach before, but it fell through the cracks in final budget negotiations. Is that a fair characterization?
A: Yes. As these packages come together there are things that are included and not included. At some point people say "we've got enough in here, we can't do more" and move it forward. The more support that we build, in terms of the number of co-sponsors in the House and the Senate, the stronger case we have to include it in a package going forward.
Q: How do you respond to those who say government shouldn't do this? I believe you have a First Amendment obligation to support the press but I'd like to hear your response.
A: This has nothing to do with how folks are reporting. This is making sure that folks are focused on local news and local news organizations are allowed to continue and thrive. We're losing newspapers every day and so our policies are focused on making sure we help support those organizations. There are many other tax credits that we have in place that businesses use in a variety of industries.
Q: What do you say to those who think this influences coverage?
A: First of all, this is bipartisan legislation and there's no partisanship with respect to how those journalists are reporting. This is just about supporting local journalism. They will write what they think is the right thing to write to support their communities.
Q: What could be the pathway to get this done in 2023?
A: Almost every tax bill we do is bundled with something. In the scheme of things this is a small, narrow bill so it will almost certainly, to move forward, be bundled with other legislation. That sometimes forces things to move forward, which can be helpful, but it also can make it hard because you can have something like this that has strong bipartisan support and, if it's bundled with things that aren't bipartisan, that can make it more challenging.
Q: Why the small business tax credit?
A: It helps both ends — it helps our small businesses to get the community aware of the work they're doing, and it obviously helps the papers to have that revenue stream going forward.
Q: Will it initiate advertising relationships, so perhaps newspapers become more sustainable beyond the five years?
A: Absolutely. If communities know they have the journalists there to provide information that is critical for them in their communities, that builds up the population of people reading local papers. Then we also have the support in terms of a strong advertising base in terms of small businesses who are able to communicate to all those folks who are reading. That helps everyone, that helps the overall community.
The big concern always is that we will just have national media, who only focus on things happening across the country, and we'll lose local journalists who are really talking about what's happening at the heart of our communities.
Brier Dudley on Twitter: @BrierDudley is editor of The Seattle Times Save the Free Press Initiative. Its weekly newsletter: https://st.news/FreePressNewsletter. Reach him at bdudley@seattletimes.com.